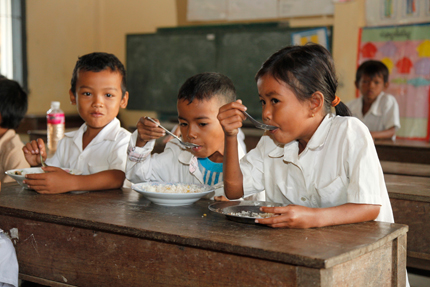 Rice
It's Asia's staple food, and is eaten regularly by about two billion people – nearly one in every three people on the planet. Rice makes up about 20 per cent of all calories consumed globally – in some Asian countries that can rise to as high as 70 per cent.

Societies have developed complex ceremonies and rituals in its honour, newlyweds are showered with it, and its tiny grains are often associated with prosperity and fertility.

But despite its almost universal appeal, rice does not deliver the full package of micronutrients needed by young children in particular in the early years of life. Rice fills stomachs, day in and day out, but it's not truly helping children reach their full potential.

Hidden hunger
Especially in poor communities, a lack of essential nutrients and vitamins in the early years of life can leave a child malnourished – not in the stereotypical television-image sense of wretched children on hospital beds, but by what is known sometimes as 'hidden hunger.'

Although we are living in the 'Asian Century,' rapid economic development threatens to mask a high burden of hidden hunger. According to WHO/UNICEF data, every year more than 13 million babies are born with mental impairment in Asia; 500,000 children under-five die from Vitamin A deficiency, and anaemia affects 115 million schoolchildren and 200 million women.

Under-development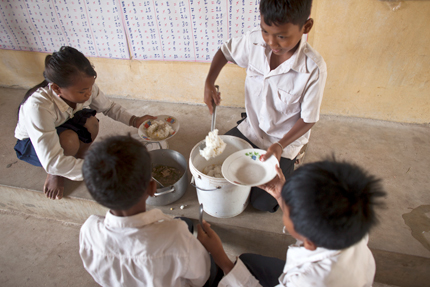 Hidden hunger at crucial stages in a child's development can deal them a life sentence of under-development and under-achievement. They will not grow as tall and strong and physically healthy as they should (technically known as being stunted), and they will endure other permanent setbacks.

"Hidden hunger is very damaging because of two reasons," says WFP's chief of nutrition Martin Bloem. "One reason is brain development. If a child is born with a not completely developed brain - you can imagine that for brain development the vitamins and minerals are very important, then the moment a child is micro-nutrient deficient, or has hidden hunger, the brain will never develop optimally.

"The other aspect of hidden hunger is in fact mortality – micronutrients are essential for the defence mechanism of a child, and children who are micronutrient deficient have an increased risk of respiratory infection and diarrhoea, and those are the two main killers of children in the first couple of years."

So how to deliver this nutritious punch on a large scale, across whole communities, and in an affordable manner?

Fortification
The World Food Programme (WFP) has several decades of experience delivering food assistance into conflict zones and to victims of major natural disasters, but addressing hidden hunger is a different challenge altogether. There are many tools, and no silver bullet, but there is one option that is quite possibly a game-changer – fortified rice.

Rice fortification is a complex process, requiring cutting edge technology and dedicated machinery and production lines. It is essential that the added micronutrients are retained after washing and cooking, without affecting taste – a unique technological challenge.

But the process adds no more than five per cent to the cost of bringing rice to market – an investment which is far outweighed by the medium to long-term benefits offered by fortified rice.

Finished product
The finished product looks, tastes and feels the same as natural rice, even after preparation. Any variety can be fortified. It is cooked in exactly the same way, and is already available on many markets around the world. Even more importantly, fortified rice can provide a steady supply of all the required micronutrients to entire populations without any need for a change in food habits or dietary behaviour.

"Rice fortification could in fact have an impact on the prevalence of stunting in many, many places in the world," says Bloem. "Despite incredible improvements in the economy in India, or Indonesia, or South-East Asia in general – all rice eating countries – the impact on stunting has been quite limited. So rice fortification can have such an impact on the prevalence of stunting that it has long-term implications for equity in the world."

Technology
If the solution sounds so simple, why is it not being adopted in rice consuming countries and communities across the world? Part of the answer lies in the fact that the necessary technology to really do rice fortification right has only been developed in recent years, but the finished product is already widely available in countries such as China, Brazil, the Philippines, the United States and South Africa.

For WFP, the priority is now to trial fortified rice in our existing programmes, to demonstrate its utility, and so to advocate with governments and donors for its use in food-based safety net programmes across Asia. Pilot projects are underway in both Cambodia and Bangladesh, with the support of government counterparts, NGO development partners and the private sector. Dutch firm DSM, a global science-based company and world leader in the field of nutrition, is playing a key role in the provision of technical expertise.

Partnerships
Robust public-private partnerships will be crucial for sustainable and effective rice fortification programmes – 12 million people have already benefited from WFP's partnership with DSM, and the plan is to grow the partnership further. Fortified rice is likely to be at the heart of this expansion.

Partnerships such as these are key to realising the enormous potential offered by fortified rice – the largest potential lies well beyond WFP programmes. Expertise and resources from across the public and private sectors need to be harnessed intelligently to create a sustainable approach to rice fortification. The right supply chains must be in place, and sustainability ensured through a longer-term, market-based vision which builds on the initial impetus created by humanitarian and development imperatives.

Asia's staple – rice – has the potential to be the world's greatest public health system, helping to end malnutrition in our lifetimes and playing a key role in lifting millions out of poverty.

This is the moment to recognise the amazing potential offered by rice fortification.

We cannot afford to miss it.


(The writer is UN World Food Programme Spokesman for Asia)